See on Scoop.it – eMuseums Eye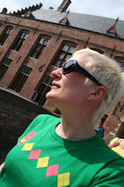 "…what was the question?* And seriously, what questions should museums ask before investing in a mobile or tablet app?
…
So if your cultural organisation is considering an app, perhaps you should consider the questions the GDS poses before asking for an exemption to the requirement to just build a responsive website:
Is our web service already designed to be responsive to different screen sizes? If not, why not?What is the user need that only a native/hybrid app can meet?Are there existing native/hybrid apps which already meet this user need?Is our service available to 3rd parties via an API or open data? If not, why not?Does meeting this need justify the lifetime cost of a native or hybrid app?
What questions should we add for cultural heritage, arts and educational organisations? (My pet hate: are you creating amazing content that's only accessible to people with the right device?) And since I know I'm being deliberately provocative – what exceptions should be allowed? What apps have you seen that could only work as an app with current technology?"
via @mia_out
See on openobjects.blogspot.co.uk